SS 506 : Part 3 : 2013 Occupational Safety and Health (OSH) Management System
Number of companies who have benefited from our services for ISO & bizsafe
The Workplace Safety and Health (General Provisions) Regulations requires certain classes of factories in the chemical industry in Singapore to set up a safety and health management system according to the elements provided in the Code of Practice on Safety Management System for the Chemical Industry.
This standard enables an organisation in the chemical industry to set-up, implement, maintain and improve its management system so as to control its OSH risks and improve its performance. It is intended to address OSH processes rather than product and services.
It is applicable to an organisation undertaking activities involving hazardous substances such as processing, bulk storage, manufacturing, handling, or the movement of such chemicals in bulk, or combination of these activities. This standard may also be used by any organisation that wishes to seek certification for its OSH management system by an external organisation.
Benefits of SS 506 : Part 3
Comply with legal requirement (for the chemical industry)
Helps eliminate or minimise risks for stakeholders through identification of hazards and control measures to manage them
Credibility and image improved amongst stakeholders, customers and the public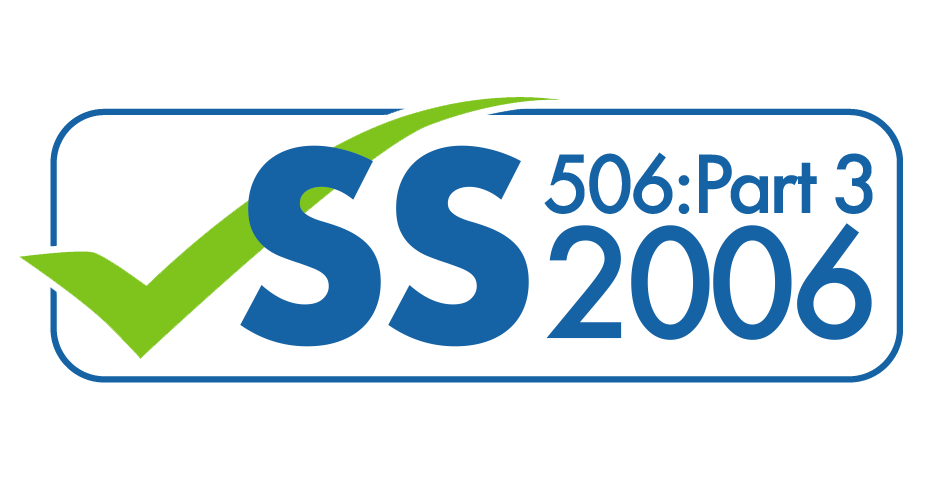 – SS 506 Part 3 applies to contractors for oil refineries, chemical, pharmaceutical and terminals – with a deadline of compliance said to be required by the end of Y2006. 
– it applies to your WORKPLACE for Oil Major's requirements and legal compliance.
– it applies to all owners and contractors who are interested to see an OHSMS in place – to comply with OSHAS 18001 (update) as well as the legal Code of Practice (CP) for Safety Management System.
 – it encompasses a management process of : plan – do – check – act – review – continual improvement 
– with legislative and other compliance as a minimum requirement – (e.g., CP for  SMS or SCC or new WSHA can be a part of your OHS management-system under SS 506 Part 3). 
– to satisfy Customer and Legal requirements simultaneously 
– to organize and self-regulate OHS efforts with legal compliance  o to assure and demonstrate to others – conformance to own OHS Policy & System 
– to meet Oil Majors' requirements in Singapore – and make customers happier  
– to sustain company business & profit – and prevent low work morale owing to high accident rates    – to assess risks and eliminate / minimize / confine / control hazard exposure of employees and other interested parties 
– to conform, perform & continually improve your OHSMS and OHS performance – to be a preferred contractor in the industry   
– to project company image & to market-differentiate – with sales expansion and manpower stability
What can CCIS do for you?
CCIS provides consultancy services to guide your organisation through the stages of development, implementation and trial audit. Internal Auditors course is also available on a monthly basis. We have assisted over a thousand companies in achieving their ISO ambition. 
Contact us  today for a no-obligation quote!